Ball-Rolling Vibration Switch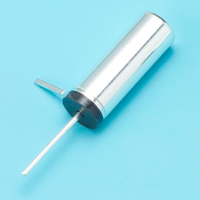 WBT413T Ball-rolling vibration switch
Product ID: WBT413T
WBT413T vibration switches are sensitive to triggering, and meet with environmental requirements. These switches are durable, can be activated in a small range, and suitable for low-current and low-voltage products.
Key Applications:
Game machines, toys, security systems, electrical and electronic products, personal security alarms, vibration sensors, and car alarms.
Specifications:
Maximun Switch Rating: 24VDC, 6mA.
Electrial Life: 100,000 cycles Min.
Contact Resistance: 0.5Ω Max. (Measured at 45° tilt )
Different Angle: 10° Max.
Solder Temperature: Manual soldering 250°C, 3~5 seconds.
Operating Temperature: -25°C~ 85°C
Soldering process : Soldering process : Recommend by manual soldering, not proper for wave soldering.