Vibration Switch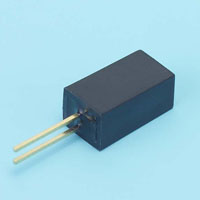 R511 Vibration switch
Product ID: R511
The R511 vibration switches are sensitive to trigger, and are made from environmental friendly materials. They are airtight, dustproof, waterproof, operates with a small action angle, and has a long operation life. The product is suitable for low voltages and currents. Patent protected.
Key Applications:
Game machines, toys, security systems, electrical and electronic products, personal security alarms, vibration sensors, and car alarms.
Specifications:
Maximun Switch Rating: 24VDC, 6mA.
Electrial Life: 100,000 cycles Min.
Contact Resistance: 0.5Ω Max.
Different Angle: 10° Max.
Solder Temperature: Manual soldering 350°C, 3~5 seconds.
Operating Temperature: -40°C~ 85°C
Soldering process : Recommend for manual soldering. The product is not suitable for wave soldering.